Sinclair Broadcast Group is a diversified media company and leading provider of local news and sports. The organization serves communities in 86 markets with 185 television stations, while its 21 regional sports networks also span most of the country. Upon facilitating a major rebrand for 19 of the sports networks, Sinclair searched for a supplier specializing in promotional products and solutions to partner with for this extensive project.
The company "connecting people with content everywhere" looked at ways to consolidate buying a massive amount of promotional merchandise for the rebrand, which can often be a challenging category for procurement teams to source. Sinclair's Senior Director of Purchasing Eric Buckner took a strategic route by looping in their group purchasing organization (GPO) to streamline and speed up the process.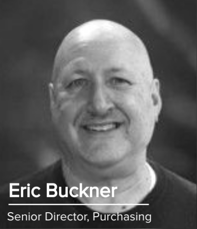 Procurement, purchasing, sourcing and supply chain leaders all recognize the importance of quickly and seamlessly providing cost savings across multiple stakeholder groups within their company while strategically managing their spend cube. Buckner has been able to achieve those goals and works to strengthen relationships by partnering with internal stakeholders in each area of the business. He oversees a team that while driving advertising revenue where possible, also leverages a GPO to provide cost savings and additional value in vendor relationships.
"GPOs provide another tool in a very extensive tool kit that works for cost savings," says Buckner. "They are particularly valuable in areas of spend where procurement has not taken the time to thoroughly vet a particular category of spend. In that regard, they can act as an extension of my team. We can, and we have taken advantage of 'riding the coattails' of larger companies and/or companies with larger spend that are members of a GPO."
Buckner explains that categories such as travel reservations, office supplies and promotional items have been particularly advantageous for collaboration with GPOs.
---
Interested in getting in touch with AMP&M to see how your company can save?
Fill out the form below to get started!
---
Challenge
Execute major project rebranding 30 Fox Sports networks to Bally Sports networks.

Achieve consolidation & savings by purchasing all products from one vendor.

Build an online store where the company's on-air staff and clients can order corporate branded items.
Solutions & Savings
Purchasing's Eric Buckner teamed up with Operations' Dan Zimmerman, Vice President, Corporate Promotions to identify the best solution for the rebrand to achieve cost, time, and resource savings. Buckner's success with group purchasing led to the company buying from OMNIA Partners supplier partner AMP&M's GPO contracts.
"Everything went very well," says Zimmerman. "We were able to buy in bulk saving us money and time. The product quality was extraordinary."
AMP&M and Sinclair Broadcast Group collaborated to build an all-in-one, easy-to-execute online store platform filled with every promotional product the company needed and more. They customized the store through integrated product search, multiple designs and custom branding.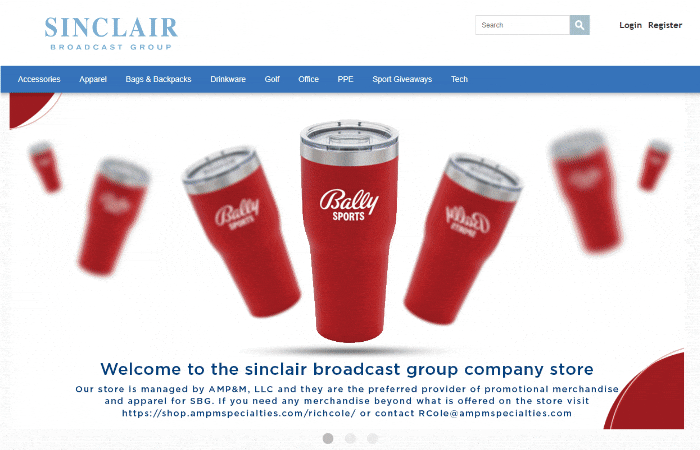 "Working with AMP&M has been extremely helpful," says Zimmerman. "When we need something or have a question, they're quick to reply and provide lots of options, which is a great asset when you're looking at merchandise. They present us with a selection of choices at different price points so we can see similar items costing more or less."
Following the sports network's rebrand, Sinclair was able to extend the use of the corporate branded merchandise and apparel site to the rest of the company.
"We could handle quality control because we were guiding everybody's project through the same supplier rather than having 30 networks go with local vendor companies," says Zimmerman. "The few small errors that came up were fixed immediately. It's been a great relationship."
With confidence knowing everyone is receiving the same product creating uniformity throughout the organization, Zimmerman says the entire process was simple and streamlined. Each product was carefully selected and correctly presented to deliver the company's message.
Reshaping the Procurement Process with a Group Purchasing Strategy
Procurement, sourcing and supply chain professionals are in the perfect position to help companies succeed. Through group purchasing, they can speed up and make processes more seamless while achieving lower prices through the robust buying power of the GPO. Organizations leveraging the strategic group purchasing model are able to bypass hundreds of hours in sourcing time, which can then be dedicated to other company priorities.