The unfortunate truth for nearly every business is that time lost is money lost.
Quick decisions help companies save money, but only if they are also the right decisions. The problem appears when businesses need to make a multitude of decisions on many different topics; they can't possibly be experts in all of these fields. This is why there are many silos of spend that tend to go unmanaged.
Procurement professionals will often postpone implementing a valuable program because they believe they can come up with something better themselves. Even if they do have the knowledge and connections to put together a slightly better plan, they've often already missed out on a great deal of savings in the meantime.
The Math of Waiting Rarely Works
If you assume a basic three-year agreement, even a six-month delay in adopting means you need to come up with savings 20% greater than the original opportunity presents in order to achieve the same value over the course of those three years. Wait a year, and you will need a full 50% greater savings to catch up over the term.
Have a $500,000 per year opportunity on the table today? If you wait six months, you will need another $100,000 per year in savings in order to equal the same $1,500,000 over the three year period. Another six months and you will need an extra $250,000 a year.
These figures don't even consider the additional time value of money.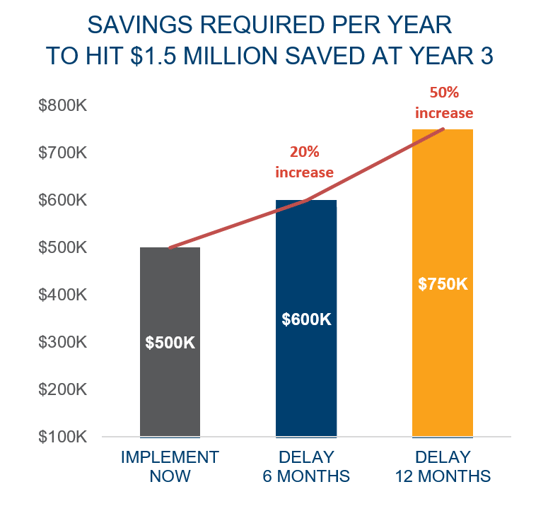 Don't Put Off to Tomorrow What a GPO Can Do For You Today.
You can't do it all, but that's okay; you don't need to do it all.
Many of us recognize that we'd like to tackle every sourcing project we can, but we don't have the staff to do it all. This is why selective use of third-party solutions can be the perfect supplement to your efforts. Extending your capacity and achieving savings now is superior to waiting for what you think might be a better offer later.
Stop Wasting Time (And Money)
A Group Purchasing Organization (GPO) has leveraged the collective spend of their membership to negotiate market-leading programs that go beyond cost savings. By working with a third party you can extend your team and gain access to GPO contracts with the best suppliers in the marketplace. View a sampling of the supplier partners that are in our network and recognize indirect and direct materials areas of spend that can immediately take advantage of the GPO process. Stop delaying, start saving.