Modern procurement teams care about more than just cost savings. While finding opportunities for more efficient spending is critical, increasing procurement influence and becoming a strategic partner to the business are also top priorities. With this modern way of thinking, it is essential to take a more strategic approach and consider factors beyond price when making purchasing decisions.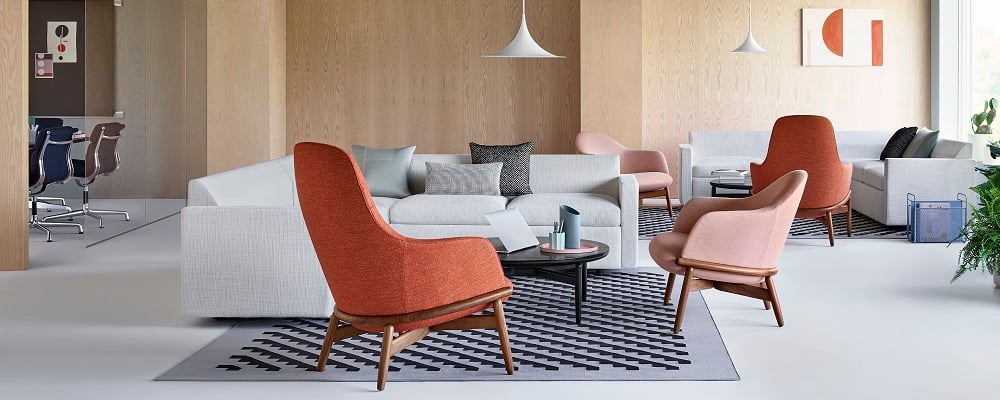 Check out more workspace products like these.

Buying office furniture is a major expense. There is a wide variety of factors to consider when purchasing to maximize the value of the products in your organization. Below are two simple steps to help you make more insightful and impactful decisions when purchasing new furniture for your office:

1. Stay Current with Workplace Trends

Staying current does not mean buying furniture every time new styles become available. Understanding which trends are leading the industry and adapting buying behavior accordingly will help keep your employees happy and healthy.

Younger Generations Entering the Workplace
As younger generations join the workforce, preferences shift from individual work areas to collaborative team spaces. As a result, many offices are adopting an open floor model with smaller personal workspaces and additional areas designed for group collaboration and innovation.
Keep this in mind when purchasing new furniture for your business space. Be sure to opt for multi-purpose, collaboration-focused furniture and space-saving options for personal workspaces. Paying attention to this will give procurement the opportunity to impact the organization's culture outside of cost savings alone.
Advances in Technology
Technology has enabled us to be more connected than ever, changing the way we work. The challenge for procurement professionals is finding the right solutions that support these innovations, as well as monitoring cost and internal compliance closely.
Streamline spend management in this area by establishing a program—complete with ergonomic standards and a budget for purchasing home office equipment—and clearly communicate it to the organization.
Increased Focus on Employee Wellness
Experts agree that sitting all day can be harmful to your health for several reasons. According to the American Heart Association, spending too much time sitting actually increases the risk of heart disease, diabetes, and death.
In an effort to improve employee health and encourage more movement, many organizations offer standing desks or other sit-to-stand options for employees. These help keep employees happy and healthy, reducing absenteeism and turnover which leads to deeper cost savings with the added uptime. Consider including these options in your office furniture program moving forward.
2. Offload the Heavy Lifting
One thing we hear from procurement professionals is that they simply don't have the time to manage spend across all of their indirect categories. Luckily, there's a simple solution to efficiently aggregate your organization's spend: partner with a group purchasing organization (GPO).
A GPO can help uncover the benefits of a fully-managed office furniture program while freeing up time for procurement teams to focus on more strategic initiatives. By providing value-driven resources that act as an extension of your procurement team, a GPO will help you maximize savings, identify the right mix of products and services for your organization, take on supplier management, and more. Additionally, leveraging the buying power of a GPO can help you secure optimal pricing and contract terms.
---
ABOUT HERMAN MILLER & OMNIA PARTNERS
The Herman Miller program through OMNIA Partners provides sophisticated, innovative, and cost-efficient furniture solutions to transform and empower your workplace.
Herman Miller is a globally recognized leader in design. Since our founding in 1905, our innovative, problem-solving products and services have inspired the best in people wherever they live, work, learn, heal, and play.
Our growing family of purposefully selected, complementary design brands is guided by a shared purpose—design for the good of humankind. We shape places that matter for customers while contributing to a more equitable and sustainable future for all.
To learn more about how a GPO can help you level up your overall buying strategy, check out: How Procurement Benefits From a GPO