An office relocation program and working with a GPO… You might find yourself wondering, "Is it worth it?" It can seem like a small area of spend for your businesses, in fact, it may feel like this offering doesn't even apply to your organization. Or that the barriers you face while trying to get buy-in for change are insurmountable… So, should you even bother?
As a procurement professional, there a lot of reasons why you should be looking at the office relocation category as a large area for future cost savings at your organization. From some of the biggest issues your organization will encounter without an office relocation strategy, to calculating the actual cost of an unmanaged move, let's discuss why this category should be on your radar.
PROBLEMS WITH UNMANAGED MOVES
Commercial moves are a lot of work, especially for those organizations that have many office space locations, like staffing, retail and healthcare industries. The biggest benefit of using a partner and program is the amount of time and money you will save while also centralizing a large amount of spend.
Different locations and, in some cases, different departments use several providers and contracts to move their stuff from location to location. So, if you have 30 different locations, you also have 30 different office/facility managers vetting and sourcing these moving companies, yielding potentially inconsistent and inaccurate results.
Let's take a closer look at some of the employee time and cost factors that go into an office move.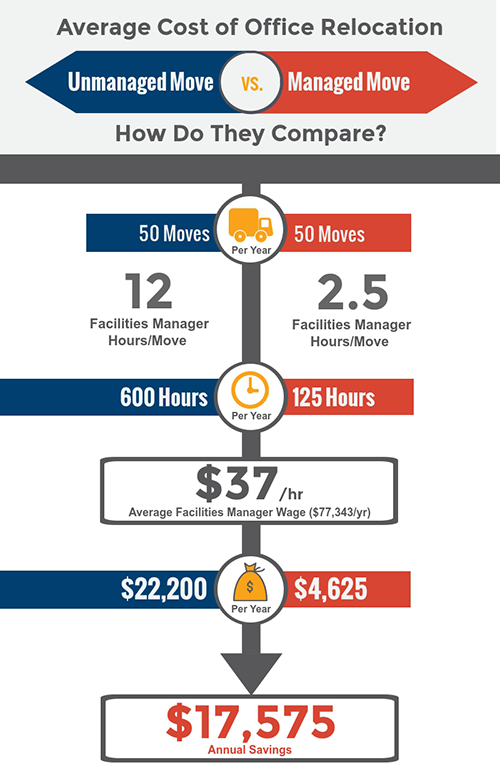 In other words, your organization is looking at $17,575/year of savings when using an office relocation strategy, which does not even include leveraged pricing of moves. That's a significant amount of money.
BUT… ARE YOU SURE THIS APPLIES TO ME?
What if your company doesn't move that often? Are there still benefits to this type of engagement? Yes, there are a lot actually.
"Even if you aren't moving that much – let's say 2,3,4 times each year – you will still have a vetted relocation company that is striving for continuous improvement," said Dennis Horvath, director of category business development at Andrews Moving and Storage.
Also, depending on the program you engage with, there can be services outside of a typical commercial move that your organization can benefit from using. For Instance, Andrews offers project management, furniture installation, technology services, warehousing, asset reallocation and management.
And, just because your company doesn't currently do a lot of office moves, don't rule them out a few months or years from now.
"We are seeing a lot of office consolidation type moves, where companies are bringing multiple offices into one location," said Horvath. "Companies are also purchasing new furniture, as opposed to rehabbing furniture or reusing the furniture they currently have, which means they are spending a lot more on move projects than before."
SPECIFIC BENEFITS FOR YOU
Outside of cost savings, there are some other big draws that procurement professionals should find attractive, like reporting capabilities and implementation support that ultimately lead to increased efficiencies, savings, visibility and less disruption to business.
Depending on the need, companies like Andrews deal directly with a procurement team, and then organize a marketing plan so that company-wide buy-in of the new office relocation program is not an issue.
Sounds too good to be true, right? Luckily it isn't.
HOW DO I GET STARTED?
We have been happily partnered with Andrews Moving and Storage for years, with a competitive program offering. Find out more details about our Office Relocation Program, and contact us to put some strategy and savings behind your office relocation goals.