Businesses nationwide are making indirect spend a key strategic priority for cost reduction. In order to fully understand indirect spend and how it impacts your organizations efficiency and bottom line, you need to understand what all factors into it. Indirect spend is the costs associated with purchasing goods or services that in the end don't factor into the solution your organization provides. These are items such as office supplies, travel expenses, fulfillment orders, maintenance costs, food and beverage, etc.

The reality here is that although these costs may seem small, they can make a huge impact on your company's bottom line. With the current supply chain disruptions and other inflationary costs, it's important to work towards decreasing and monitoring these costs as well as maverick and rogue spending.
This is where procurement's influence (or expertise) comes into play. Having a group purchasing organization (GPO) in your strategy ensures you have access to industry leading suppliers, mitigate risk, and provide overall time and cost savings for your organization. All in all, there are many benefits of working with a GPO to manage indirect spend. From subject matter experts to supplier relationships, a GPO is a unified front, which eases supplier communication and provides organizations with more time to focus on other areas of business.
Keep reading to gain insight on how a GPO can help you manage your indirect spend.
Simplified Supplier Sourcing
A GPO can identify savings and cost reductions without sacrificing quality when your business is selecting suppliers for your indirect spend program.
In the early stages, a GPO should act as an advisor and enable in-depth conversations with suppliers that your business is considering. Here are the questions to ask of suppliers in the running:
Can they provide insightful data?
How is their company performing?

Who is an ideal customer?
Next, discuss the objectives you would like to achieve with your new program and run an analysis so you have a holistic understanding of unique requirements for your organization.
After you have selected your suppliers, set program goals and objectives and determine the best way to measure progress moving forward. The more insight you give them into your company, the better the onboarding and implementation will go.
Once you have a program in place, it's time to announce the program and gain adoption. This is a critical time for companies in a more decentralized environment. Share information about early wins and find those early adopters who can be your program ambassadors.
Category Solutions
To get maximum value from current programs make sure you have aligned your company's objectives to your spend categories. Consolidating your programs will help you better manage the contract components with your supplier and validate savings to explore further opportunities. Utilize your GPO's vast portfolio of category offerings, from corporate services to manufacturing materials to aggregate your indirect spend.
Our members report that in leveraging the purchasing power of our category offerings, on average, annually, they save anywhere from 8% up to 39% in spend on indirect materials and services.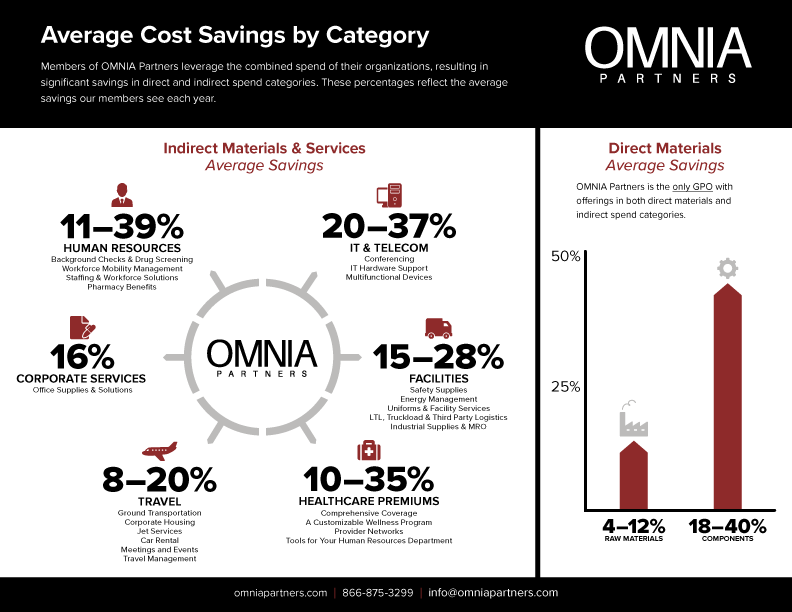 Centralize the Purchasing Process
Working with a GPO is a proven way to reduce indirect spend, and more importantly, working with the right GPO is the best way to ensure category management is expertly handled from sourcing to performance and beyond.
A GPO that manages negotiations with suppliers from materials to pricing and ensures compliance all the way through, will centralize and automate the process giving your business a holistic picture of overall spend, while optimizing your organization's efficiency so your organization can stop leaving money on the table.
---
Wanting to learn more about how a GPO works? Check out of frequently asked questions page: Group Purchasing Organization FAQs
---