Organizations across the country are dealing with the tightest labor market since the 1950s. For nearly a full year, a record number of workers quit their jobs. The compounding workforce issues present an opportunity for procurement professionals to step up as problem solvers, and we've already seen it happening as they bring solutions to the table and become even more valuable at their company.
The U.S. Department of Labor quit data helps us to understand the current market and assess the rate of open jobs, unemployment, etc. Though the extraordinary rate of people leaving their jobs has the largest impact in hospitality, food services and health care, the shortage is widespread affecting all industries, organizations and departments.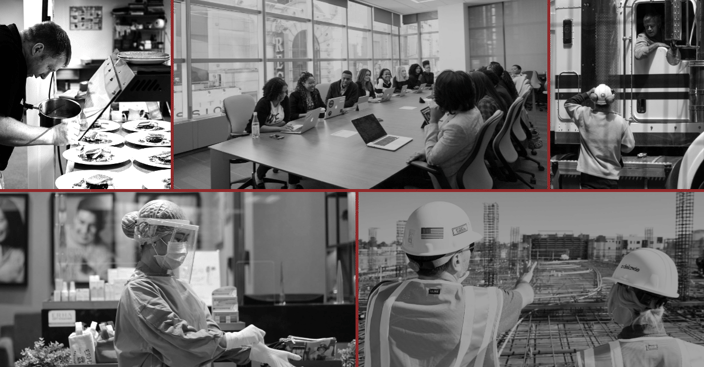 People drive companies. People do the work. How does a business continue its operations with a chunk of its talent missing? The search for workers has elevated to the C-suite where the CFO and other executives are involved in determining the best route to address this workforce issue to avoid a disadvantage in the marketplace. Before the talent shortage became so prominent on a company's list of challenges, the HR department managed talent strategy. Now industry insiders see HR teams turn to their procurement colleagues for assistance in sourcing. Procurement managers have the exact expertise needed to get creative and leverage resources like a group purchasing organization (GPO) to find talent and HR solutions quickly and at a lower price.
Speaking to labor industry experts and procurement leaders, we're discussing the driving factors, impacts and strategies to overcoming the workforce shortage along with ways you can leverage a GPO to mitigate market challenges.
Impact on Your Organization
Traditional borders surrounding the procurement function continue to move in an advantageous direction as more and more procurement, purchasing, sourcing and supply chain managers are involved in solving some of the company's largest issues, such as finding talent in a labor shortage. Industry insiders don't envision this shortage going away this year and predict a metered improvement where supply won't catch up with labor demand until 2023. A significant response to the labor shortage and Great Resignation— the term industry experts have coined for this phenomenon— is the rare and welcomed leverage that workers now possess allowing them to secure higher pay and better benefits.
Now two years after the pandemic began, the same companies who cut staff need help with recruitment. There's a range of workplace scenarios as people are either back in offices, fully remote, hybrid, retired early or tending to childcare needs. Federal stimulus checks and expanded COVID-19 unemployment benefits have also played a role in helping people stay on the sidelines or be pickier about their next employer. Through a time of heightened anxiety, people are in self-reflection mode rethinking what their career means to them, their family and future.
As a result, your HR department is dealing with a low number of applicants, lack of interest and salaries/benefits not competitive within the market. The trend that remains constant is that professionals in every field are holding out for higher salaries/wages, better benefits and more flexibility/work-life balance.
Procurement Manages Labor Challenges
We had the opportunity to discuss the labor market challenges with OMNIA Partners member Joshua Glazer, the Assistant Vice President of Procurement at Credit One Bank in Las Vegas. With over 30 years in the procurement industry, Glazer explains that the current labor challenges have magnified the tight labor market that already existed in Las Vegas, especially for the positions his organization is looking to fill.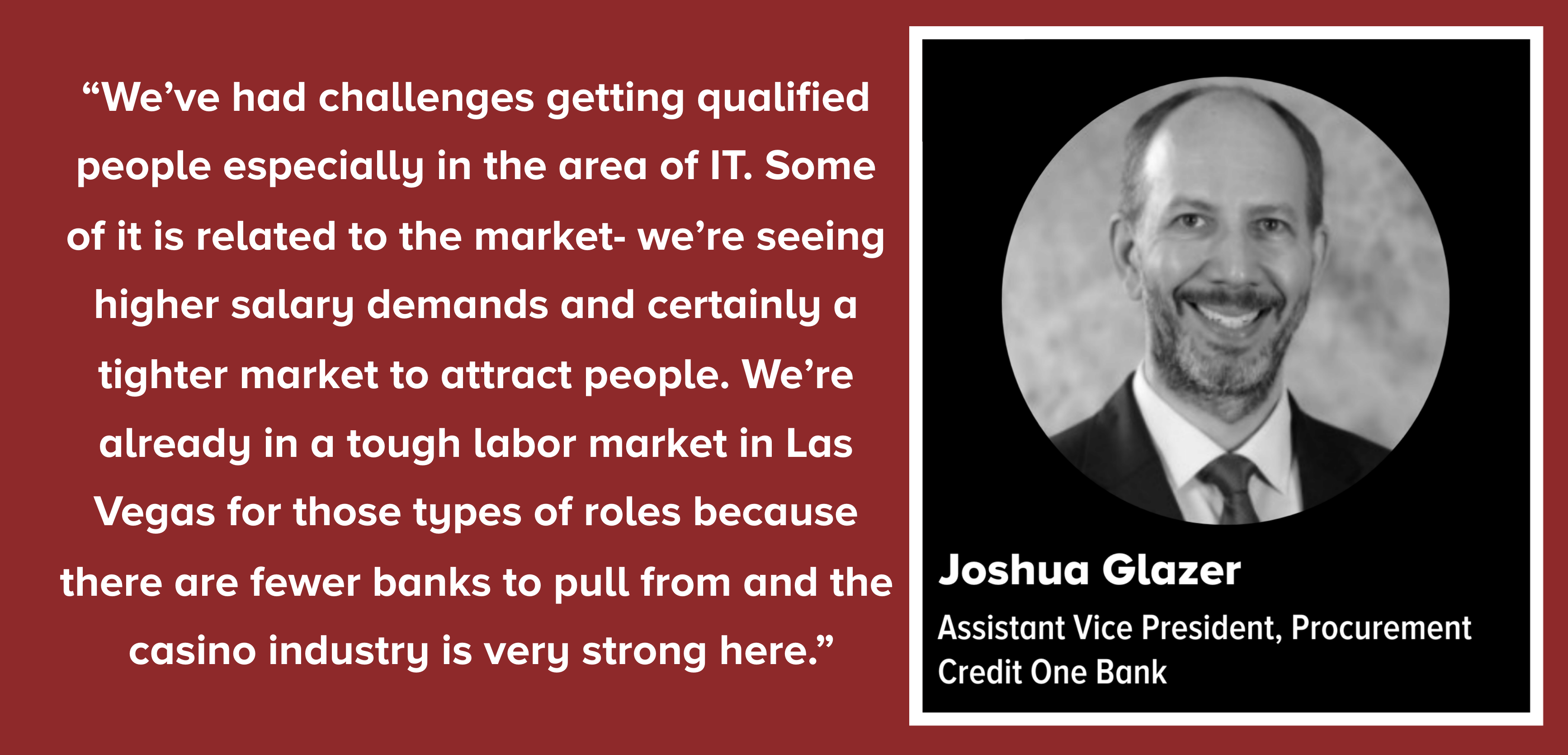 As casinos dominate in attracting and retaining talent, the supply chain issues have presented obstacles to Glazer's bank specifically in their core product, credit cards, due to the global microchip shortage. They can't provide customers with their credit cards without a chip so supplier relationships have been key to ensuring supply chain inventory.
"I'm seeing the strength of supplier relationships help tremendously," says Glazer. "During these challenging supply chain times, it is not enough to share forecasts, pay on time and lock in contracts. Customers and suppliers need to communicate and collaborate more often and closely to plan options, such as partial deliveries, certify alternate components, manage changing short and long term component availability, and even discuss additional sources of supply. These additional qualities help establish a better relationship with your suppliers, and in turn, can improve availability of supply to your organization."
A strategic way procurement teams can succeed in strengthening supplier relationships is through group purchasing. GPOs have been a best practice in the public sector for several years and are strengthening among private businesses recognizing the immense value in group buying power along with savings in time and resources.
"Although we're a fast-growing company, our spend isn't that large and the leverage of the GPO is so much larger that we're able to realize much more favorable pricing than we could ever achieve on our own," says Glazer.
Now that the access to talent is top of mind for organizations across the nation, the associated pressures are placed not only on HR, but procurement's shoulders too, meaning there's never been a time prior to now where HR and procurement's roles have been more vital to the company.
Redesigning HR Spend with a GPO
"GPOs help drive loyalty because they provide existing relationships that are much larger than any individual procurement department can establish," says Assistant Vice President of Procurement at Credit One Bank Joshua Glazer.
Now more than ever, group purchasing provides a unique advantage to procurement and HR teams. What's typically been a confusing or burdensome spend category for procurement to navigate has transformed to quick and easy access through the use of a group purchasing organization (GPO). GPOs equip purchasers with a team of advisors who have in-depth knowledge in the human resources industry, formerly employed in the HR space and possess a strong understanding of the impact HR has on everything in the company. The subject matter experts working as an extension of the procurement team help rethink the way HR solutions are achieved and introduce new and innovative products or services.
Procurement teams have an opportunity to lean on their GPO partner to guide, advise and connect to the HR programs that help organizations plan strategically and address the diverse needs of staff and contractors. The value of deeper, stronger relationships with national industry-leading suppliers has opened the door to better solutions, prices through collective buying power, especially when the supply chain faces high shipping rates, delays and shortages.
For an in-depth look at navigating the labor shortage, read our latest white paper The Procurement Strategy to Stay Competitive in a Tight Labor Market.