As business travel continues to recover, how will travelers' expectations change, and will corporate travel policies migrate more toward cost savings or traveler satisfaction? What changes from the pandemic might become permanent?
Enterprise and National partnered with BTN Group to identify differences in traveler and travel manager priorities. The study shows gaps exist, but not always over the issues you might expect.
---

---
The pandemic forced travel programs to shift priorities to keep their employees safe.
The resulting sudden suspension of travel also provided companies an opportunity to
experience significant savings by substituting face-to-face meetings with virtual ones.
To better understand the mindset of travelers and travel managers alike, The BTN Group, in partnership with sponsor Enterprise Holdings Inc., conducted separate surveys of each group, obtaining a snapshot of the current state of global business travel affairs and exploring expectations as more companies return to business travel.
The results reveal where travelers and their companies agree and disagree on a range of travel policies—and what travel managers might do to address any lingering reluctance of employees to travel.
What were the Key Findings?
1. Nearly three-quarters of travelers are currently satisfied with their companies' travel policies and feel the policies help them achieve their business goals. For business travelers, 45% feel safety and security is more of a priority than company savings and 43% said they plan to travel less compared to 2019 because of safety concerns.

2. Choices on mode and class of travel and types of lodging are most requested by business travelers, but most travel managers said their programs already offer such options.
3. Nearly two-thirds of travel managers said their top priority in 2022 will be finding a balance between cost saving and employee demands. Six in 10 travel managers say that keeping their business travelers happy will be a challenge as travel increases.
What Factors are Driving the Change in Managed Travel?

Frequent business travelers and travel managers agree that company travel and duty of care programs are changing for a myriad of issues. Travel managers overwhelmingly cited traveler safety and well-being on the road as the key driver of changes.

In contrast, just 37% of business travelers surveyed cited that; rather, about half of them identified COVID-19 transmissions as prompting most changes to their travel programs. Regarding cost savings, three of five travel managers cited this as a top driver of program changes.


Business travelers on the other hand, feel it is a slightly bigger driver for their companies than traveler safety and well-being on the road.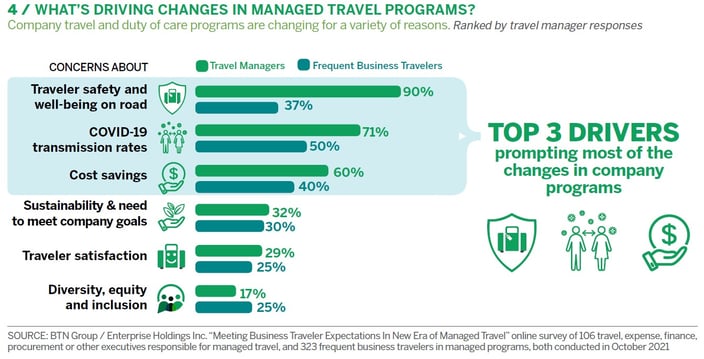 Additional Key Insights From EHI Whitepaper
Nearly six in 10 travelers indicated they were prepared to accept whatever travel policies management adopted

.
Nearly six of 10 business travelers indicating that the duty of care program left a positive impression on them,

just over half (54%) said their company was effective in informing travelers before trips.
Download the full Meeting Business Traveler Expectations in New Era of Managed Travel White Paper to learn more about traveler expectations in global business travel.
What Does this Mean for the New Era of Managed Travel?
Transitioning out of the pandemic and creating a roadmap to ramp up global travel may well prove one of the most difficult—and important—challenges today's corporate travel managers have to face. To succeed, those in charge of implementing travel policies must align company goals with program deliverables that traveling employees depend on to effectively do their jobs on the road.
Business travelers are eager to resume their pre-pandemic business activities, and they're open to embracing—or at least tolerating—their companies' travel policies in exchange for conducting business on the road again.
Traveling employees want more frequent trips, even at the cost of challenging duty of care protocols, and they are prepared to accept whatever travel policies management adopts.
---
About Enterprise Holdings and OMNIA Partners
Members of OMNIA Partners have access to transportations solutions through Enterprise Holdings. Through their global car rental network and the value of OMNIA Partners, members have access to cars, vans and trucks at competitive rates with integration to travel management tools. This contract includes both nationally recognized brands Enterprise and National.