What happened? When you work in a facility with 50-foot ceilings, inventory stacked up high, and the constant movement of heavy equipment around the loading dock, you want your operations to be easy to monitor. It's not only the big spaces that need visibility, but the smaller spaces where the more refined work occurs. It may even be on the production line that you rely on for optimal efficiency.

In addition to what happens inside, whether you run 24/7 or not, monitoring your outside premises are as important for security to prevent theft and be alerted of unauthorized intruders and property damage.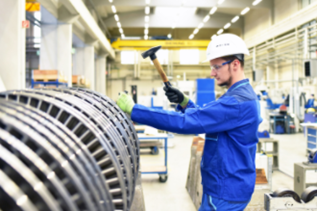 Worker Safety, Compliance and Asset Tracking
Recent advancements in video security solution (VSS) technology are providing dramatic new benefits to manufacturers and service providers. Few things are as important to an organization as worker safety, so it only makes sense that the next evolution of technology will help ensure the welfare of employees. Today's VSS incorporates state-of-the-art platforms that provide edge-based detection coupled with artificial intelligence. For compliance, safety and efficiency, an organization should know Who, Where, When and most importantly, What happened. VSS is the answer.
At Konica Minolta, our VSS enables manufacturing facilities to get the visibility and analytics you need to discover problems, detect anomalies, preempt problems and take action.
When selecting a VSS platform, these are some of the things to consider: Businesses need a platform that balances net new functionality and balances deficiencies of present systems. There are three main challenges in utilizing technology for: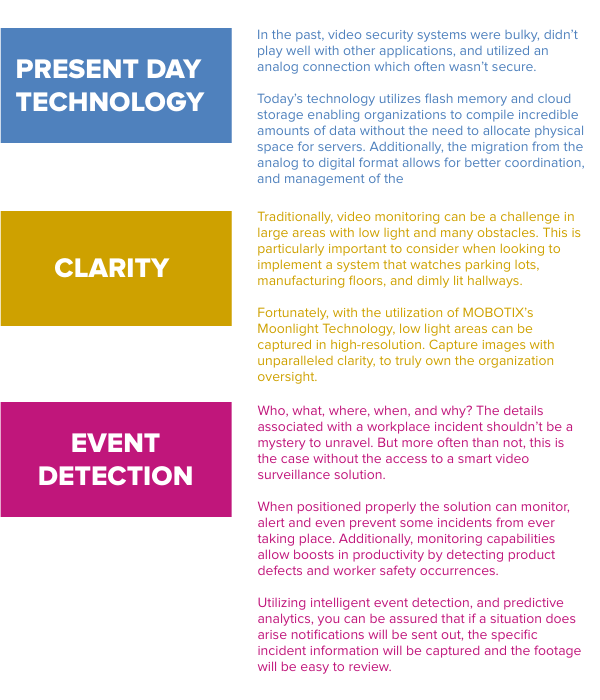 From operational efficiency and loss prevention to facility security, Konica Minolta Video Security Solutions provide the data, clarity, reliability and flexibility that you need to respond to alerts, evaluate activity, provide internal & external security and employ the level of detection you need.
For more information, please contact your OMNIA Partners sales representative and Konica Minolta team.