As winter is approaching, cold & flu season is here and snow and salt will start being tracked into your facility. We want to ensure you have a strategy for purchasing the necessary solutions needed to keep your facilities clean and your employees healthy and safe.
According to the ISSA, the leading trade association for the cleaning industry worldwide, Americans are still concerned about the cleanliness of businesses. In their YouGov study on post-pandemic concern over cleanliness and germs, more than half of their respondents (56 percent) report they have thought more about how clean an organization/public space is in the past two years than ever before. Even more so, the majority of respondents, 82%, would do or say something if a facility wasn't cleaned to their standards.
With these statistics in mind, it's of utmost importance that your business is prepared and has the right equipment to deal with the winter snow and salt, germs and bacteria that enter into your facilities. The good news is, with a group purchasing organization (GPO), we aggregate the buying power of our suppliers and can provide more in stock solutions with a cost-savings approach in mind. We strategically source and vet our supplier partners in order to provide time savings along with a vast network of resources to ease your purchasing process.
We've only scratched the surface. Let's deep dive into how your business can maintain cleanliness all around!
Let Us Help You Source In-Stock Multi-Surface Cleaning Products
By leveraging a GPO, you have access to in-stock multi-surface cleaning products from Sanitaire Commercial, leader in hard and soft floor cleaning machines. From vacuums to hard floor washers, get immediate in-stock products today. For entry mats to hard floors, Sanitaire recommends the TRACER® Cordless Vacuum, which is cordless and has a small footprint for quickly cleaning dry salt.
For saving time and eliminating the extra step of mopping up the mess that slush, snow, and salt leave, Sanitaire designed the HydroCleanTM Hard Floor Washer, a washer and vacuum in one, for the toughest commercial environments and daily use.It vacuums and washes all at once, cleaning twice as fast as traditional cleaning processes according to the AICS Time & Motion Study.
Lastly, EON® QuietClean® Upright Multi-surface Vacuums are designed with a sealed HEPA system to maintain indoor air quality and keep germs away!
Maintain Multi-surface Clean
It's important to remove the mixture of snow and salt that can tear up the surface of your floors as it can lead to dangerous slippery floors and track it further into the building requiring very frequent cleaning. Rock salt can especially damage floors, causing stains, discoloration, scratches, and more, which all lead to a poor customer experience. Using the appropriate equipment is key, and we are here to help your facility and customers maintain safety and extend the lifespan of your floors. Preventing bacteria from building up is just as important as the study shows, so reach out to us today to learn more about developing your customized multi-surface cleaning plan.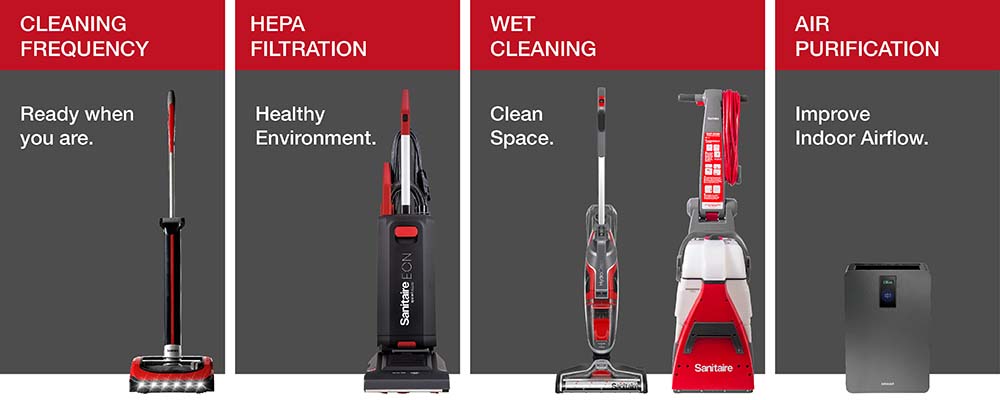 ---
OMNIA Partners & Sanitaire
Sanitaire's diverse product line features upright, backpack and canister vacuums, carpet extractors, electrostatic sprayers, air movers and purifiers, along with accessories to keep your machines running. Sanitaire is your single source for cleaning machines across all your surfaces – hard surface, soft surface, carpet and air through OMNIA Partners. We are dedicated to the success of your business and ensuring an exceptional clean for your customers. Contact us today to get cleaning faster!