Rapidly rising in importance amid the talent shortage is contingent labor, workers that provide services to an organization such as independent contractors, freelancers and temporary staff, and are not on the payroll. Almost every company has contingent workers, and many are increasing the use of non-permanent labor while dedicating more spend to the HR category.
The trend of 2 out of 3 workers classified as contingent is expected to continue, and as this bucket of spend increases, it becomes a higher profile spend at your company. This is where sourcing and procurement leaders have an opportunity for more involvement and can bring a successful contingent labor/HR purchasing strategy to the table.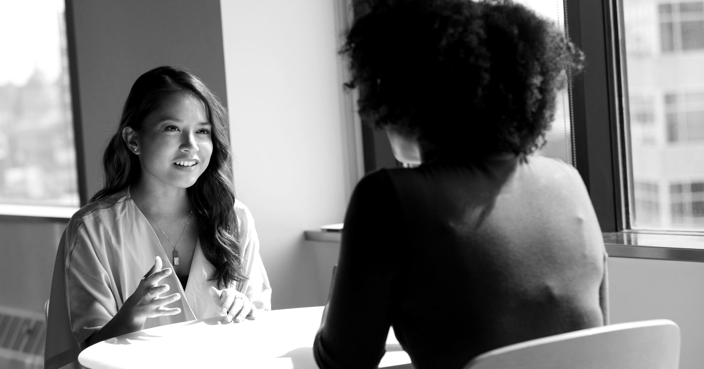 One of the most effective tools to have in your procurement strategy at this moment in time is a group purchasing organization (GPO). From hiring, employee retention and contingent labor, the HR procurement GPO contracts help you plan strategically and address the diverse needs of your staff and contractors. Contingent labor allows companies to be more flexible in the volatile market, and group purchasing introduces more agility and visibility.
Let's explore how a GPO opens the door to this key solution of contingent labor to help fill the gaps in your workforce.
Contingent Workforce's Impact on HR Spend
Together procurement and HR can save 10-20% of topline spend when utilizing a contingent labor solution. This strategic spend presents an even larger opportunity for savings in the HR category if an organization starts to evolve toward an even higher-level contingent labor solution. More and more businesses have another organization managing their contingent labor due to the complexity of the solution—keeping track of independent contractors, the statement of work (SOW), temps from a traditional staffing supplier and all the necessary documentation.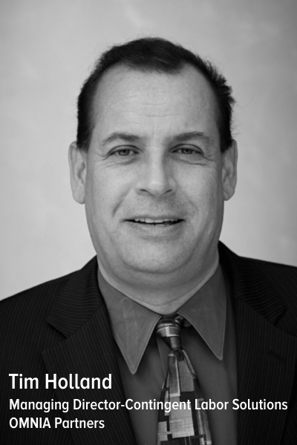 For a deeper understanding of what companies are doing throughout the ongoing talent shortage, we've consulted with OMNIA Partners Managing Director - Contingent Labor Solutions Tim Holland. With two and a half decades in the industry, Holland helps GPO members address their organization's requirements connecting them to flexible, innovative industry-leading solutions.
In daily conversations with GPO members in HR and procurement departments, Holland says questions about compensation continue to come up. He explains that companies are having to address their pay rates, and most have never had to increase pay more than the typical 3-6% raises. Now some may see 20-30% increases.
"One thing that's remarkable is that in 25 years, I've not witnessed this degree of outsourced recruiting over direct hires," says Holland. "Through what we've seen in GPO member companies and deals we've been involved in, there is more recruitment process outsourcing (RPO) than in any other given year."
As it relates to your contingent labor spend, when working with staffing companies, it's key to be cognizant of the terms and conditions and liability, which are often deferred to the customer. If not managed closely, price creep emerges. The value of group purchasing is that procurement teams don't have to dedicate time and resources to managing the contract as it's done by the GPO's team of experts. To eliminate any other confusion or burden, leveraging group purchasing connects your company to world-class supplier solutions that'll successfully run a contingent workforce program. The GPO's buying power provides lower prices and immediate access to a variety of problem solving labor solutions.
Another trend related to contingent labor is the demand for new skills to support continuous innovation and research and development of new products and services that drive the demand for contingent talent databases. The data is increasingly being used to fill strategic roles and find highly skilled temporary workers to help companies meet immediate needs.
Technology's Role in Sourcing/Managing Talent
When companies have independent contractors, temporary staff and freelancers, there are new people coming and going within facilities resulting in a lot of fast-moving and ever-changing factors to track. The ability to oversee service management, all new and non-permanent individuals within your operation—the security guards and landscapers—can be done by leveraging dedicated technology. But this fresh and innovative technology goes well beyond temporary employees and encompasses managing the company's spend and entire workforce.
The managed service provider (MSP) is an outsourced company that provides and manages the IT services and workflow, specifically help in supervising contingent labor. Think of it as the umbrella in which all the software falls under. This outsourced solution manages hundreds of contracts so procurement doesn't have to. All of this processing and managing is done through the tool designed with contingent labor in mind, a vendor management system (VMS).
It may not be second nature to use this solution but it comes with ease and comfort knowing that experts are managing the workforce. A GPO team also is well-versed in the MSP and VMS innerworkings and provides members with immediate access to programs.
"At no cost, the GPO takes a consultative approach looking at whether a company has a healthy MSP, analyze member data and create useful reports with actionable data," says Holland. "One of my key suppliers has analytics to help members look at the market and see salaries/wages, number of job openings and more. We're here to help and provide strategic insight for procurement and HR teams."
Group Purchasing Power for HR & Beyond
Hiring efforts are more robust, and procurement can elevate their company's reach by tapping into a GPO's strong supplier relationships. The GPO team interacts with those suppliers on a daily basis, sharing knowledge, data and best practices, which can be challenging for an individual procurement professional to access on their own.
Right now it's about attracting quality talent and holding onto the skilled professionals working for you. Ensuring your company has an inclusive environment with stellar benefits package and significant compensation can help you do that. Your GPO can provide competitive HR contracts that'll help you and your HR stakeholders navigate.
In the video below, OMNIA Partners Managing Director - Contingent Labor Solutions Tim Holland explains why contingent labor is a strategic spend and how you can use this solution to overcome challenges associated with the talent shortage.
For a more in-depth look at navigating the labor shortage, read our latest white paper The Procurement Strategy to Stay Competitive in a Tight Labor Market.