Editor's Note: This post was originally published by American Express and has been re-purposed with permissions. To view the full article visit the American Express website: here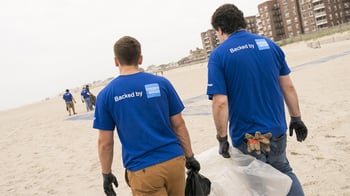 Creating a culture of giving and community will impact and empower your workforce.
By providing employees, especially millennials, with flexible opportunities to give back to their community, you can contribute to key business goals, including improved work morale – which results in the attraction and retention of employees. Our valued partner,
American Express,
has found a winning solution to give back to their community while allowing employees to feel a true sense of purpose and value. Promoting flexible community opportunities for your workforce not only encourages employee engagement, but it also boosts the well-being of the employee, the community and you, the company. Uncover the value of 'Freedom of Choice.'
THE BENEFIT OF PUTTING MEANING BACK INTO WORK
According to the Giving Institute at Indiana University Lilly Family School of Philanthropy, U.S. companies gave about $20.7 billion to charitable causes world-wide in 2017, up 8 percent from 2016.
A survey of 200 Fortune 1,000 companies by the Boston College Center for Corporate Citizenship found that 80 percent of those companies offered a workplace giving program for their employees with 70 percent of them matching monetary contributions and 43 percent offering a cash match for employee volunteer hours.
Chief Executives for Corporate Purpose (CECP) reports that matching employee contributions to nonprofits now account for about 10 percent of all corporate donations, and the percentage of companies that allow employees to openly select where they donate went from 51 percent to 55 percent from 2015 to 2017.
Likewise, corporate volunteer programs that grew the most in this time period were those that offered flexible scheduling and paid release time for employees. According to CECP, the number of companies offering flexible scheduling increased from 55 percent to 66 percent and companies offering paid release time increased from 58 percent to 66 percent during the same time period.
Companies are increasingly giving their employees a larger say in how their charitable contributions are distributed, and which organizations and causes are good partners for volunteering.
FIVE TRENDS MOVING THE PRACTICE FORWARD
One such way is through skills-based or pro bono consulting: encouraging employees to use their business skills to assist organizations and causes in short-term projects. LBG Associates, a corporate social responsibility consulting firm, has recently published a report entitled Pro Bono Today: How Companies are Moving the Practice Forward. In it, five trends are identified:
Expanding opportunity for both employees and nonprofits. The benefits of providing skills-based volunteering aren't just reserved for a few high potential leaders and a few nonprofits. Companies are enlarging these programs to include more employees and more nonprofits around the world.
Setting development goals for employee volunteers. Companies are setting specific developmental goals for their employees to achieve through these projects, and employees are also being held accountable for whether those goals were met and how they can apply these skills to their regular jobs.
Measuring more outcomes and impacts. Consistent with other areas of their philanthropy, companies are conducting evaluations of the projects that are being supported through their pro bono efforts, and the impact of this work on the nonprofits and communities is becoming more critical to measure.
Using third parties to help with nonprofit preparation. Increasingly, companies are using third parties, like the Taproot Foundation, to help select the appropriate nonprofits to partner with, scope the projects into manageable tasks and train the nonprofits how to work with for-profit partners.
Taking actions that make it easier for nonprofits to take on pro bono volunteers. Having short-term, manageable projects is not only helpful to the employee volunteers, it's also helpful to the nonprofit managers who are tasked with working in the projects. Anything that companies can do to make it easier on the often under-resourced nonprofits helps to achieve better results and encourage other nonprofits to work with pro bono volunteers.
You must not underestimate the power of choice when engaging employees, especially Millennials, who are searching for purpose in their work environment, says Linda Gornitsky, president of LBG Associates. "Employee choice can be a strategy in itself for some companies, which often leads to high engagement although less-focused giving. The sweet spot could be allowing employees to choose their favorite charity within company-determined focus areas – such as homelessness or youth education. Or perhaps adopting a crowd sourcing method and letting employees choose their preferred nonprofits by popular vote.
No matter the approach, companies are increasingly empowering their employees to get engaged in the causes and organizations that are important to them, and then giving employees incentives and the flexibility to carry through on those passions. The resulting increase in engagement is a win-win for both the companies and the communities they serve.
Our partner, American Express, gives their colleagues almost complete freedom of choice in the nonprofit organizations and causes that they give to and volunteer with. Accordingly, they have 80 percent of their colleagues in the United States who participate in their annual giving campaign, and over 46 percent who volunteer with charitable organizations globally.
THE POWER OF THE PARTNERSHIP
OMNIA Partners is proud to offer our members access to Corporate Cards & Financial Services through industry-leader American Express. We know that financial visibility can be a spend burden and challenge for small to midsize companies. That's why our program provides members the opportunity to gain powerful backing and support that will help your company obtain financial savings, control and efficiency - regardless of company size.