Tail spend is the amount an organization spends on purchases that make up approximately 80% of transactions but cover only 20% of total spend. Tail spend often gets ignored and typically goes unmanaged. Strategic procurement and mid-tier categories that represent around 80% of an organization's spend are where the major cost reductions can be found. But what about the other 20% of the spend, the tail?
Tail spend is made up, mostly, of high-volume/low-value purchases that involve many suppliers. According to the Boston Consulting Group, tail spend has the potential to deliver cost savings of 7% - 10%, if it is actively managed.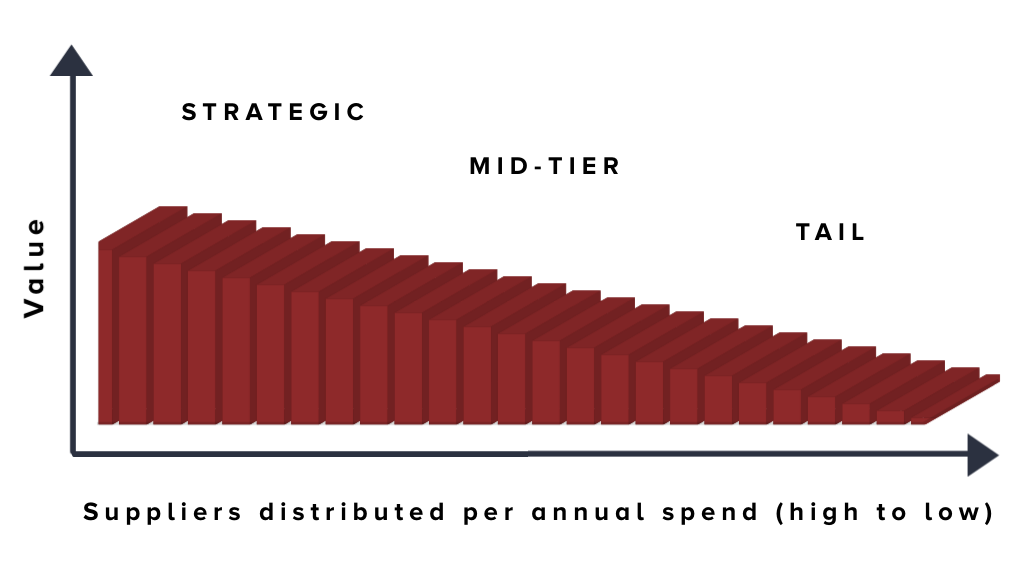 What tail spend includes varies depending on the industry sector and size of the organization, but it generally includes:
Purchasing card buys
E-catalog spend
Minor local and petty cash items
Spot or one-off purchases
Any other low-value purchases that bypass procurement
Purchases are usually non-core, but still essential to the smooth operation and the financial success of a business.
Benefits of a Tail Management Program
A clearly defined tail management program can provide a competitive advantage for an organization. Besides potential cost savings of 5% or more, there are many benefits:
1. Reduced Supplier Risk
Tail spend management programs control, monitor, and track transactions as they occur. They are highly effective at ensuring compliance to contract, preventing rogue spending behavior, and limiting unauthorized purchases. Removing obsolete and unreliable suppliers from the database also reduces risk and provides a more transparent procurement process to prevent and detect fraud.
2. Increased Efficiency & Productivity
Consolidating suppliers increases efficiency and frees up resources for more productive work. Self-service procurement facilities, such as E-catalogues, can be provided for end-users which frees up expensive resources. Automated buying channels allow tail spend to be moved from unmanaged to managed.
3. Better Relationships with Stakeholders
Internal customers and approvers need clarity on purchasing rules and spend limits for tail spend. They want easy-to-use, intuitive tools as well as speedy processes. A rationalized supplier database for tail spend reduces errors and speeds up cycle times for everyone.
Creating Visibility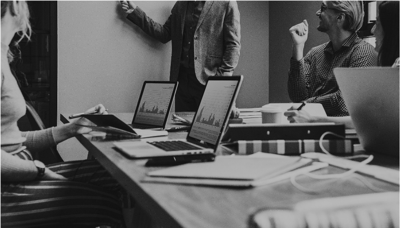 Managing tail spend can only happen if there is clear visibility into the historical data. There are some difficulties: poor supplier master data, decentralization of purchasing activities, and different IT systems that need to be interrogated. Data must be analyzed, cleansed, and verified before it can be classified, all before action can be taken. There are many ways to classify tail spend, for example:
All third-party spend below a certain threshold e.g., all purchases with an invoice value of less than $$$. The cut-off depends on the size of your company and spend profile or
All spend with suppliers where your annual spend with them is less than $$$ or
All spend that is not actively strategically managed or is not contracted within defined categories
The Role of a GPO in Managing Tail Spend
Often procurement teams are stretched and do not have the time or the capacity to get involved in extracting savings from tail spend. People in procurement need to focus on areas that can add more value to the organization.

Despite the opportunities associated with managing tail spend, it's a low priority for procurement teams due to the effort and time required to manage high volumes of data, combined with its lack of strategic importance. Mid-size organizations do not always have the technology available to analyze and large volumes of data.

GPOs like OMNIA Partners have hundreds of industry-leading suppliers and solutions in areas of spend from IT products and services, fleet services and car rental, MRO, payroll services available to solve tail spend challenges. Outsourcing complex categories to a GPO can reveal the sometimes "invisible" spend and identify price creep in the tail.

Working with your GPO will provide a win-win situation: you will drive a bigger return on investment (ROI) through identifying new areas of savings potential without having to do the groundwork. Hours will be saved by taking advantage of existing pre-negotiated contracts and service level agreements (SLAs) rather than having to initiate multiple sourcing processes.

At OMNIA Partners we interrogate our members' tail spend to locate opportunities for costs savings as well as offering benefits such as improving efficiencies and reducing supplier risk that you would be unable to achieve on your own.