Choosing the right purchasing structure for your organization isn't an easy, quick decision. It's important to look at all of your options and weigh the pros and cons. You may even find that a combination of two types is best suited for you and your organization.

Every organization operates differently when purchasing the goods and services the business needs. The purchasing structure you select for your organization should complement how you do business and what will benefit your organization the most.

Follow along as we take a deep dive into decentralized, centralized, and coordinated purchasing structures.
Decentralized Purchasing
Decentralized purchasing allows multiple departments, branches, or employees to procure the items they see as a need. This can be beneficial to end users because the purchaser may understand their needs more closely than a dedicated procurement team. Plus, since they are purchasing for their direct end users, there is less wasted resources. On the flip side, this structure lacks consistency and can be overwhelming because there are so many available solutions to choose from.
Centralized Purchasing
Centralized purchasing means there is a dedicated procurement department at your organization that handles all purchase orders. This option is very standardized and regulated so that you are sure to meet compliance standards. Since all purchasing originates from one team, you are able to track and manage spend much easier as well. Conversely, a centralized purchasing structure can lead to a backup of purchase orders due to having a lean procurement team and, at times, a surplus of goods that may go to waste.
Coordinated Purchasing
Overall, the most effective structure tends to be a coordinated one that is neither centralized nor decentralized. A coordinated procurement structure is more effective at leveraging the best practices and suppliers across the organization. It takes the pros of decentralized and centralized purchasing structures while avoiding the cons found in each model. By utilizing a hybrid of centralized and decentralized, your organization can craft a purchasing structure that helps you succeed.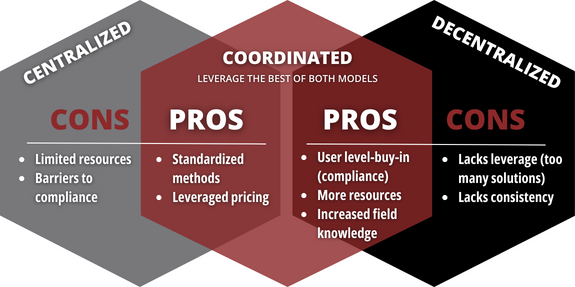 GPO Partnership
Adding a group purchasing organization (GPO) to your strategy can help you get the most out of your purchasing structure. Your GPO can help you assess and manage your spend as well as find opportunities to save time and money. As a member, you have access to a portfolio of industry-leading suppliers with solutions to fit your organization's needs. The GPO can help you choose the best solution, walk with you through implementation, and manage the contract on your behalf.
Interested in learning more?