Telematics has made its mark by turning lift trucks into connected assets. The core features of these solutions include impact monitoring and providing a digital record of safety incidents. The systems digitize safety checklists, rather than forcing operators and supervisors to fiddle with paper records.
According to telematics providers, these solution suites are getting more connected to other systems and providing deeper operational insights through the use of business intelligence (BI) and analytics tools, with the end goal of providing a safer, more productive fleet.
"Every three days someone is killed in a forklift related accident, and 25% of all industrial accidents occur at the loading dock area. Telematics can drive compliance and safety improvements quickly, and we advise teams start there," says Tom Ryder, Chief Commercial Officer at TFS, an OnPoint Group Company.
👏Partner with a GPO to Make Your Fleet More Productive and Safe👏
OMNIA Partners' material handling provider, TFS (an OnPoint Group company), leverages telematics, integrating the data directly into its proprietary fleet management software. Using application programming interfaces (APIs) and more advanced levels of business intelligence tools, TFS is able to marry telemetry data with other sources of data to feed analytics.
Which APIs and business intelligence tools should organizations then utilize together to ensure a safer and more productive operation? Through the OMNIA Partners' program, OnPoint Group/TFS, provides turnkey fleet management solutions.
1. Leveraging BI
Analytics carry value, but it's important to realize that basic telematics and fleet reporting can do much to improve compliance with safety regulations and help improve safety, which should remain a key focus, points out Tom Ryder, chief commercial officer at TFS, an OnPoint Group Company and a brand independent provider of turnkey fleet management services.
Core telematics functions such as access control, safety checklist, impact management and operator monitoring are still the right starting point for most facilities—especially for larger, multi-shift fleets, advises Ryder, though analytics can follow these "Big Four" functions.
"When the full breadth of technology is harnessed such as labor management, preventative maintenance scheduling, utilization planning, cost per hour, indoor/outdoor vehicle tracking, route density, material flow, job monitoring and task selection, to name a few, we can unlock an immense amount of data that drives exponential value to a high-velocity facility," Ryder says.
"With fleet management software, these prescriptive analytics deliver insights that drive operator performance improvements and incentive programs for safer and higher productivity facilities such as cases moved per labor hour." - Tom Ryder
Part of the value in an outsourced fleet management arrangement, Ryder says, is that companies can focus on operations, not learning how to deploy and get the most out of telematics and fleet software. "That's why we've built an entire team that designs, implements and manages telematics solutions as an additional service, integrated with our fleet management solutions," he says.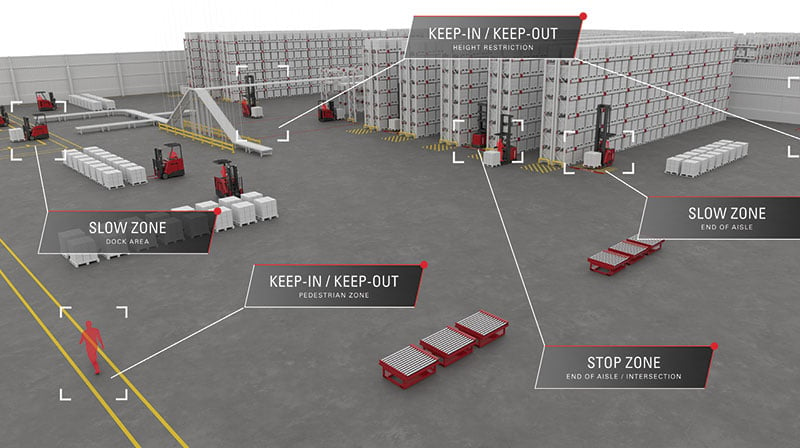 2. AI-driven safety
Analytics can be leveraged when utilizing operator assist technologies i.e. artificial intelligence -- cameras and sensors -- to avoid an accident or determine the degree of hazard. Warnings can be put in place so the operator can react in a timely manner to avoid an incident.
Getting more out of lift truck telematics involves looking beyond basics and starting to incorporate analytics fed by integration with other systems. By marrying up telematics data from the trucks with operations data, or with real-time location feeds, users stand to benefit.
Looking to integrate telematics into your facility?
OnPoint Group can support from design to implementation of telematics to ensure your facility is operating productively, safely, and efficiently.
RELATED CONTENT FROM ONPOINT GROUP: