Digitizing your files gives you easier access to the information currently locked inside. Everyone can benefit from increased productivity by decreasing the time you spend hunting for information. Essentially, digitizing can help you reclaim precious lost hours of the day.
Darkness falls across your files,
Once they're plucked from cabinet aisles,
As you crawl in search of what's in need,
The paper and images for scanners to read,
And whatsoever shall be converted,
Shall have the name and tags inserted,
For if you don't, retrieval will be hard,
Cause it's been stored in the

Digital Graveyard!
No, this is not a horror poem/blog about the iconic Michael Jackson song "Thriller"...but an equally spooky and scary topic: the Digital Graveyard with the ghosts of critical business content! This blog will discuss workplace digital transformation, automation with machine learning, and defined business rules for easier document and data access.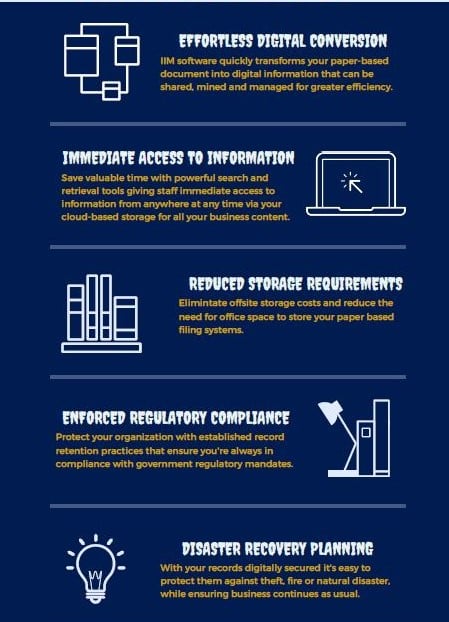 We have all done it... snapped a great picture, scanned an important document to email, or authored a valuable MS office document…but then got distracted and never intelligently stored the file.
Now imagine this issue magnified on the scale of any large enterprise organization with hundreds or thousands of employees. Possibly millions of documents are scanned and transferred with limited governance on naming, tagging and storing. Local files that reside on employees' workstations, laptops or phones, are lost when employees leave, and the files are not properly recovered. Employees spend countless hours of their workday attempting to simply locate information, just to do their job. GRUESOME and HORRIFYING can be this tale...this lost information we need to recall is forgotten, lost, and buried in the vast unclassified world of what we refer to as the Digital Graveyard.
There is a solution. In this increasingly digital world, many offices and manufacturing facilities struggle to organize information while handling the various tasks necessary to grow your business. With Konica Minolta's Intelligent Information Management (IIM), you can provide more time for employees to dramatically improve their efficiency. Konica Minolta's industry experts can help quantify the three key values of IIM: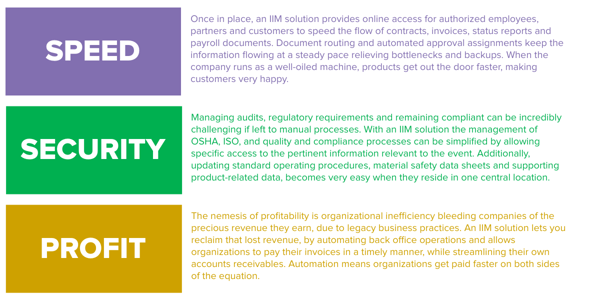 IIM REDUCES COSTS AND BOOSTS PRODUCTIVITY BY ELIMINATING PAPER PROCESSES
Easy-to-use and reliable, IIM solutions can be scaled across facilities to increase productivity and profitability with immediate access to business-critical information. The time is now for businesses to Rethink their digital and automation strategies to avoid the Digital Graveyard!
Now that you are aware of several of the key values of IIM, please contact Konica Minolta and your OMNIA Partners team for additional information.