As a travel partner development representative, members often come to me with similar complaints about online booking tools (OBTs) "it can't do this…" or "it can't do that." However, once we get into deeper conversations about the issues, I quickly realize that it's not an issue with the actual OBT technology, but instead certain functionalities are turned off and alerts aren't set up. Or, the company policy isn't tied to the tool correctly, so travelers aren't warned when they are making non-compliant travel arrangements.
Don't get me wrong, OBTs and their capabilities are really great and essential to business travel — they just aren't always used correctly. It can take a lot of time to learn all of the options and how to implement them properly. In fact, travel managers attend OBT user conferences simply to learn what the tool can do. And, since OBTs and other technologies show no signs of slowing down it's important to get your tools under control.
A TMC Partnership
This is where a travel management company (TMC) comes in. Having a TMC partner that knows the OBT and has dedicated resources is key. Direct Travel, an OMNIA Partners supplier, is one such example, and they recently created a guide to help customers maximize their corporate travel booking tool, "Reroute To Better Online Adoption."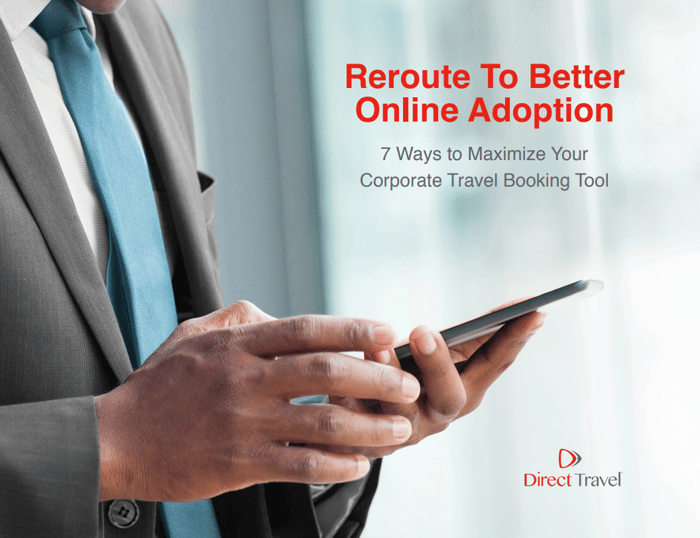 Here are some key points from the Direct Travel Guide that often come up when I talk with our members, and some examples of how members are handling those questions at their organizations:
OBT Ambassadors. Get a small team of users to be the early adopters and also help push the initiative to others.
Apply Your Policy to the OBT. If you have segments in your policy, use them in the tool. Some members of OMNIA Partners differentiate executives in the policies and therefore allow them to book the first-class tickets in the tool.
Allow For Truly Flexible Exceptions. Maybe you have a road warrior who wants to book a non-stop flight to get home in time for his child's concert. Allowing him the option to write in the reason for the exception and giving his manager the ability to approve it will go a long way with his job satisfaction.
Use Messages, Alerts, Homepage Announcements. And, refresh these quarterly to keep travelers informed.
Educate Your Travelers And Track It. Show them how to utilize mobile tools in conjunction with the OBT to make their lives easier, and then track OBT app usage. One member created short videos, made them available to travelers, and also incorporated them into new employee onboarding.
Know The Reporting Capabilities. OBTs offer analytics and budgeting options; it should not only serve the needs of the travelers, but also anyone managing travel.
Motivate Travelers To Use Tools. Consider using incentives to increase use of the OBT if it fits with your company culture.
Incorporate Feedback Opportunities. Have comment channels in place for users to share their experiences.
Maintain Employee Records. Up-to-date traveler profiles in the OBT are critical to duty of care, compliance for preferred providers, and satisfaction of the travelers so that their preferences are captured. One member setup an automatic feed from HR to update employee contact information.
Still Looking for a TMC Partner?
Members of OMNIA Partners have seen a lot of success with their travel programs and have found creative ways to increase OBT compliance, thanks to the help and expertise of our travel management partner Direct Travel.
Direct Travel is one of a select few partners at the TMC Elite level with Concur, and has their own staff dedicated to working with clients on the Concur platform. This allows them to help optimize use of the OBT, ultimately bringing more value to members of OMNIA Partners.
Interested in learning more? Check out our Travel Management Program with Direct Travel.