On average, there are more heat related fatalities per year in the United States than any other weather event. There are even more heat-related illnesses. According to the National Weather Service, heat accounts for 130 victims per year, the only weather event to reach a triple digit 30-year average.
While it may be a surprising statistic, on average, heat is more fatal than flooding, lightning, winter, cold, wind, rip currents, tornadoes and hurricanes. This is a necessary reminder that, as we approach summer, you need to arm your workers with reliable and safe personal protective equipment (PPE). Procurement should purchase preventative PPE designed to protect in harsh and hot elements- it could be the difference between life and death.
TIPS TO PREVENT HEAT ILLNESS
According to the Centers for Disease Control and Prevention (CDC), people who work outdoors are more likely to become dehydrated and to get a heat-related illness. The CDC offers these tips to prevent heat illness and fatalities for workers:
Prevent heat illness with acclimatization
Drink two to four cups of water every hour while working. Don't wait until you are thirsty to drink
Avoid alcohol or liquids containing large amounts of sugar
Wear and reapply sunscreen as indicated on the package
Ask if tasks can be scheduled for earlier or later in the day to avoid midday heat
Wear a brimmed hat and loose, lightweight, light-colored clothing
Spend time in air-conditioned building during breaks and after work
Encourage co-workers to take breaks to cool off and drink water
Seek medical care immediately if you or a co-worker have symptoms of heat-related illness
Corporate United partner Fastenal offers a FAST Guide to Heat Illness infographic packed with prevention tips, how to identify symptoms, how to offer assistance to a colleague in danger, and employer responsibilities when it comes to heat.

How Heat Affects Worker Productivity
Heat is a huge risk factor in overall worker health; in addition it can also be a drain on productivity and revenue loss.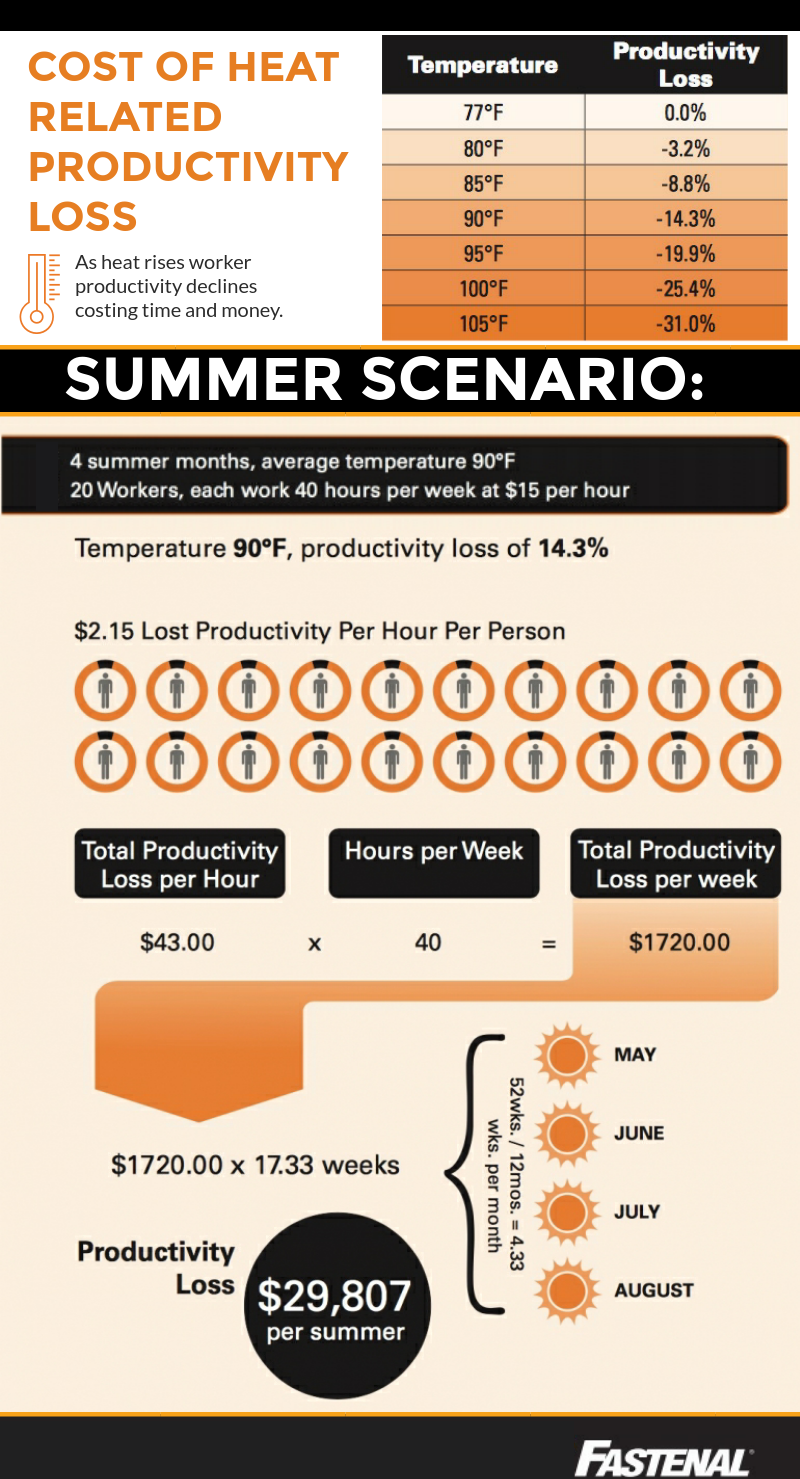 **Click image to view full size
PPE TO BEAT THE HEAT
Once the heat is on, selecting the right PPE will protect your workers and can boost productivity. Emphasize safety and maximize savings by supplying your workers with these 7 summer necessities from the OMNIA Partners Industrial Supplies and MRO Master Core List:
**Click to scroll through slides
IMPACT OF MASTER CORE LIST PURCHASING
The OMNIA Partners Master Core List is comprised of approximately 13,000 commonly purchased, aggressively priced MRO items available through the OMNIA Partners/ Fastenal program. The Master Core List is updated on a semi-annual basis to be more responsive to members' activities, which in turn improves member pricing on the MRO items most important to members. The most recent update to the Master Core List resulted in an additional 3.5% savings for members on the Industrial Supplies and MRO program.
SUMMER SAFETY SAVINGS, AS EASY AS…
The Industrial Supplies and MRO program delivers value to members through our competitive pricing structure and elevated service levels. In addition to the continued year over year cost savings, the key driver has been OMNIA Partners, Private Sector's commitment to help members procure MRO more intelligently and navigate efficiently. Through strategic and ongoing program management, OMNIA Partners identifies and implements new ways to drive value for members from a total cost of ownership perspective.
Have you been taking advantage of Master Core List savings as you prep your workforce for summer safety? Contact your representative to make sure you are!