In today's ever-changing travel industry, travel managers are having to adapt faster than ever before to accommodate new policies and procedures, while also doing more with less. Those who embrace an agile mindset have more of a competitive advantage and are likely to be higher performing. In this blog, originally produced by BTN Group, OMNIA Partners and Enterprise Holdings explore how forward-thinking decision-makers are adapting their travel programs to better anticipate and meet evolving demand.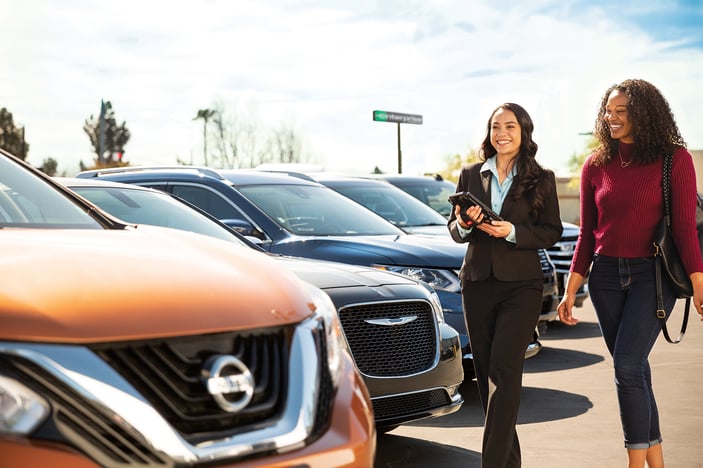 The Agile Business Consortium defines business agility as "agility in an organization's culture, leadership, strategy, and governance that adds value to all stakeholders who operate in uncertain, complex, and ambiguous environments."
As finance, human resources and marketing embrace agile practices and processes, forward-thinking travel managers are considering whether the agile mindset can be applied to travel management.
This would see travel managers pivot travel programs to better meet or anticipate traveler, company, supplier, government and industry changes. Processes and practices would also likely need to change to adapt and keep up with customer expectations.
So, what should travel decision-makers and procurement teams consider building into their programs, procurement practices, and supplier partnerships as they navigate? With the buying power of group purchasing organization OMNIA Partners, Enterprise Holdings can help businesses manage and drive agile mindsets for their travel programs.
1. Traveler Choice and Flexibility
All involved in business travel have had a crash course in agility in recent years as they navigated
the unprecedented shutdown of travel and phased resumption with new rules and practices. As travel has gradually resumed, travelers—particularly younger, newer entrants to the workforce—are expecting more choices from mode of travel to service levels, and suppliers to sustainability.
The agile travel manager will need to balance the expectations of seasoned road warriors alongside those of newer entrants to the workforce. Even for seasoned travelers, business travel is much different today with higher demand, low inventory, staffing shortages and delays.
2. Work From Home or Work From Anywhere?
The return to business travel, for many, is linked to a return to the office. While offices across the United States have reopened, various surveys and forecasts indicate that remote work remains a reality for many and may just become permanent. While companies will encourage their employees back to the office at least some of the time, the idea of a five-day week of 9-to-5 may have changed forever.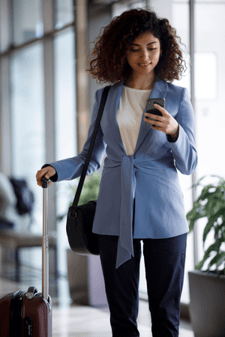 Business travel may no longer be anchored on a single office, or even geographic region. It may now encompass a couple days of commuting into the office, journeys that were previously outside of travel management policies or budgets. Many travel budgets and policies now include periodic team meetings, whether monthly, quarterly or other frequency. Such gatherings are critical to teambuilding and the new corporate culture, experts say.
The agile travel manager needs to be flexible when it comes to the starting point of a business trip. They also may need to update all profiles and datasets on travel origin, destination points and top city pairs to ensure that supplier negotiations and contracts are current.
3. Agility in the Climate Crisis
Agile companies have seen the Great Reset set off by the pandemic as an opportunity to help them think more carefully about their impact on the environment. The impact of business travel on company emissions is increasingly coming to the forefront. Whether driven by companies, suppliers, employees or pending government regulations, travel managers globally have said that sustainability has come into sharp focus.
Agile travel managers should be working with internal sustainability experts to seek ways to measure, benchmark and reduce carbon emissions of the travel and meetings vital to revenue growth. Among tactics that agile travel managers are reviewing to green travel programs: carbon offsets, sustainable aviation fuel purchases, electric vehicles and traveler education on smarter booking decisions.
4. Recruitment and Retention
The pandemic and return-to-office policies have prompted many to reconsider work-life balances and priorities as part of the "Great Resignation." Employee benefits and corporate policies—including travel—are often under greater scrutiny by job candidates than ever before.
A report by HR advisory firm McLean and Company reveals that HR professionals are having to spend 25% more of their time on acquiring talent. With the competition for talent so fierce, many companies will start to focus their recruitment efforts on high performers in critical roles. A generous travel policy for key employees has often been used in certain industries to attract key staff.
The agile travel manager should be liaising closely with the human resource function to explore just how much travel policy can be used to attract the right candidates.
5. Other Changes
Diversity, equity and inclusion have become a corporate mantra in recent years, and while travel managers have been at the forefront, alongside HR executives, there is a need to remain nimble.
Global travel managers also must remain vigilant to regulations in Europe—primarily visas, immigration, passports and documentation—pertaining to business travel. Of particular note are regulations on business trips to European countries by British citizens due to Brexit.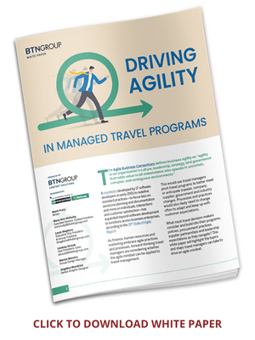 In terms of business travel, the slow unwinding of Covid restrictions means that business travel will remain complicated and fluid for some time to come. Across the US, decisions about Covid restrictions are increasingly moving to city- or county-level decisions, meaning that travelers must remain alert to local policies.
Remaining informed of every change, particularly when tasked with global travel management, can be a challenge. Agile travel managers should work with government affairs teams, if available, or an external risk management provider to keep abreast of the major changes that will affect business travel. Organizations without internal resources can set up alerts from external resources to monitor legislative changes affecting travel to particular countries.
The future is agile. To drive agility in managed travel programs, managers must embrace the key tenets of the agility manifesto to quickly adapt to changes, customer needs and external forces.

Through the buying power of OMNIA Partners, Enterprise Holdings can assist procurement teams and travel managers with valuable resources and managed solutions to meet and adapt to the ever-changing business traveler expectations. To learn more about the group purchasing program available through OMNIA Partners, click the button below.


---
About OMNIA Partners & Enterprise Holdings
Enterprise Holdings offers a total transportation solution. Business travelers can find two great car rental brands to get them where they need to go with ease and efficiency. Enterprise Rent-A-Car and National Car Rental are internationally recognized brands with an extensive global car rental network. We provide extensive vehicle rental, carsharing, truck rental, fleet management, retail car sales, as well as travel management and other transportation services to make travel easier and more convenient for members of OMNIA Partners.
Incorporating a GPO into your organization's strategy is a valuable route to cost and time savings, resilience and efficiency. Available through OMNIA Partners, Private Sector, members have exclusive access to Enterprise Holdings' solutions to fit your needs.